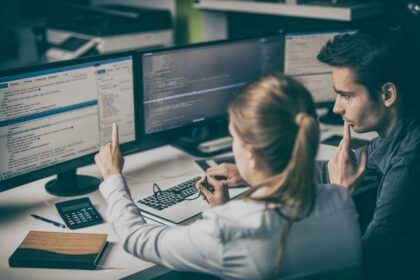 March 2019 – Agoura Hills, CA
By: Travis Baum – Post Production Manager
Here at Spotburner, we hold ourselves accountable for every step of the video production process. We make every step in said process just as important as any other. Spotburner makes no exception, especially when a shoot makes the big transition over to post production.
If you're not keen on what post production is; This is the point where the production company takes the raw footage, audio, and/or other media and stitches the content together to create a well thought out message or tell a cohesive story.
Spotburner handles all of our post production duties in-house. This means our editors, producers, and project managers all occupy the same living space to ensure the project is heading in the correct direction, both technically and creatively. The first frame doesn't even get imported into the editing software until the editor sits face-to-face with the project manager to discuss the video's creative direction. We are methodical, but we also ensure urgency.
Clients spend a lot of money on video production and we empathize with that fact, so we pride ourselves with our ability to provide quick turnaround times during the editorial process. The editorial staff aggressively follows one major rule: We always begin editing your videos within 72 hours from the moment production wraps. Your return on investment, in regards to our fast turnaround times, will surely be felt, especially when you experience the quality of the finished product.
That quality lies in our editors' abilities to follow creative guidelines (set in pre-production) and then apply them in post. Our team is multi-talented in every stage of the editing process, as well. From picking selects (the best clips from the shoot) and timeline arrangement (having it all make sense) to color correction and choosing licensed music for the video; You can rest easy knowing that Spotburner has the editing of your video completely handled.
It's important that our editors find themselves completely immersed within the production. This means, whether they are overseeing the general editing of the video or in charge of the VFX, you will almost always find your editor on set, ensuring every editorial need is met on the day of filming.
These steps are taken because, like we mentioned above, we hold ourselves accountable for the video production process. Our only responsibility is to you, the client. We take care of our client's needs before all else and look to them if there's something we feel is necessary to attain or learn.
We request that our clients serve as our executive producers and we love hearing their feedback. Our editors are always excited to deliver their first draft to clients. It allows them the opportunity to relish in the wins and learn new things from the opportunities because their skills always need to grow in order to better serve the next client. Our editors have always been talented and their level of professional growth is obvious with each new video that gets completed.
Spotburner will always be ready to take your ideas to new heights and help you create amazing, high quality video content, so be sure to give us a call at 818-852-7004 and let us know how we can serve you.