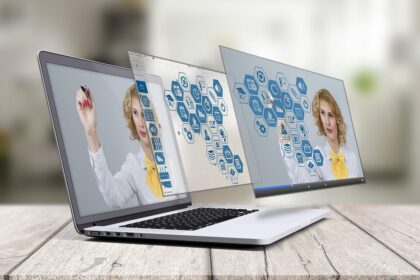 By: Bob Bekian
Burbank, CA – March 30, 2020
Extended Reality is a term used to describe an emerging set of immersive technologies
which either blend the "real" world with a virtual digital world or creating a fully immersive experience where one can interact with content in a completely artificial environment.
There are two primary types of Extended Reality ("XR") today that are making an impact in the world of business. The first type of XR is known as Virtual Reality or "VR". VR requires the viewer to wear a headset which covers the eyes and creates a virtual world which tricks the brain into thinking you are in the digital world. VR programs allow the user to look at an entire environment with 360 degree capabilities. Objects can be "Grabbed" and used to accomplish procedures such as training for a medical instrument which teaches doctors how to use the device without having to use a live patient . The doctor can practice with the functionality of a device on virtual patients and in some cases become certified virtually with the device. This can be very useful in many industries where training frequency and accessibility may limit the amount of practical training that can be accomplished. VR has made a big impact on the world of entertainment and gaming with numerous content companies developing VR programs, but a growing opportunity exists with companies who utilize VR to educate, train and inform. In China, with 10 million children in school, there is a growing movement to teach elementary students through VR "classrooms" which can be created to include interactive lessons and virtual instructors. Automotive manufacturers are also creating VR virtual tours of their cars including small details such as a seeing and hearing a properly sounding door close. This enables potential customers to "experience" products when it is convenient for them rather than not experiencing the vehicle due to distance and lack of available dealerships in their area.
The other main type of XR that can help business is called Augmented Reality ("AR"). AR does not immerse the user in a completely virtual world like VR, but rather uses a device (like a cell phone with camera) to create a layer of digital content which when placed in front of an activated object, creates an interactive experience for the user. Think about going to a museum and looking at a painting and then pointing Your camera from your phone at the painting . An AR program could recognize that painting and launch a series of options for the viewer to choose from such as a digital readout of information about the artist and painting. The AR program can also launch a video option for the viewer which provides a story about the painting. AR is very interesting for business because it does not require the user to wear a headset and utilizes mobile devices to launch AR Programs. Most people today carry mobile devices with cameras, so there are no special tools needed. AR is being used by companies for a range of training tools including merchandising products onto shelves and inspecting Pharmaceuticals during the manufacturing process.
We have learned in recent years that video improves engagement and also retention of information over the standard reading of text. As a result, people are now creating, posting and sharing many videos everyday on platforms like YouTube. As XR programs are becoming more available and user-friendly, an increased number of businesses will utilize XR technology to inform, train and entertain their customers and open up more opportunities for growth and brand recognition. For information on developing XR ideas for your business, check in with Spotburner XR Labs .